Thistle (and other) Stuff for Sale
Looking for something to put on your desk? A different idea for trophies? A "Thank You" gift for the PRO at your regatta? The defining feature of the bar at your next fleet party? Here's where to go for truly unique thistle stuff.
Want something else - a pen in school colors for a graduate or a bottle stopper in service branch colors/logo for someone you know? Contact me and we can create the custom work you're after.
Pens
I have a number of pens made in Thistle colors. Whether you're looking for the heft of a cigar pen or the formal look of a fountain pen or rollerball, I'll work with you to create the ideal pen for you.
Pen Style
I can't count all the styles that are available. Check out the gallery to see some pens I've done for a small sample. There are many more available, including very nice rollerball and fountain pens.
Metal finish
Pens come in gold, platinum, rhodium, chrome, black chrome, black titanium, pearl silver, and nickel silver finishes. Not all pen styles offer all finishes, but every one them writes incredibly smoothly. Personally I use a cigar pen that's a malachite "trustone" and purple spalted maple with black titanium metal.
Body material
Natural wood, dyed and stabilized wood, crushed gemstone, or acrylics all provide an endless range of possibilities. Check out the gallery for some examples, or contact me if there's a particular look you'd like to create.
Price
Prices start at $15 and then climb depending on the pen style chosen, the finish, and the body materials. The more exotic finishes like platinum and materials like crushed gemstones are among the most expensive while chrome and many natural woods are the least expensive. Contact me for multiple unit pricing.
Wine Bottle Stoppers
I've moved all my new stoppers to stainless steel so there's no plating to worry about. The chrome never had a problem, but since stainless recently became available I decided to move to it. I offer tops in many materials and styles. These make a great way to keep the rest of that bottle of wine ready for tomorrow. Get a bottle of wine with a custom printed label and add a Thistle stopper to have a great regatta trophy.
Materials
Stoppers are available in either natural wood, stabilized wood, or acrylic. In addition to natural colors of wood (I use a lot of purpleheart for the tops of Thistle stoppers) I can dye wood a variety of colors. Some colors are available in a commercially dyed/stabilized process of highly figured woods.
Inlays
Stoppers can have inlays added. Simple inlays like a band of torquoise/lapis would be a great feature for noting placing at a districts/interdricts (use lapis for blue chevrons).
Pricing
I have a few acrylic (non-thistle) stoppers I'm clearing out for $15. Thistle stoppers start at $20 for polyester resin stoppers with chrome bases, $25 for solid stainless bases. Wooden thistle stoppers start at $25 with stainless bases. Contact me for multiple unit pricing.
Kaleidescopes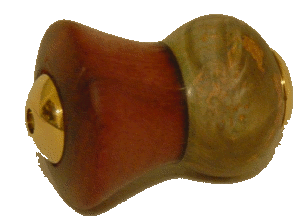 I have Thistle shaped kaleidescopes available in natural woods and highly figured woods dyed Thistle colors. Starting at $30
Copyright Notice: All content and photos: © 2002-2008 Jason and Brenda Rziha . All rights reserved.
Permission is granted to electronically copy and to print in hard copy the images shown here exclusively for personal and private use. Contact big_pictures@rziha.net for higher resolution images, and to obtain permission for any other use of this material.